Chatter of a taper tantrum has tailed off, after the big move at the start of the year in the 10-year Treasury.  But the factors that led to that brief selloff in Treasurys are very much still at hand. Chief among them are…
the rollout of COVID-19 vaccines as well as the huge fiscal stimulus already enacted with more in the pipeline, the pent-up spending power in household savings, and easy monetary policy.
Scott Peng, the founder and chief investment officer of New York investment manager Advocate Capital Management, says a perfect storm is being unleashed. His model estimates the 10-year Treasury yield TMUBMUSD10Y, 1.150% will jump 162 basis points this year and another 160 basis points next year — which is well ahead of market estimates of roughly 17 basis points of gains in each of the next two years. The 10-year yielded 1.12% in early Wednesday action.
Peng, previously Citi's chief interest-rate strategist and one of the first to spot pricing anomalies in Libor, says his model doesn't even include any additional fiscal stimulus from the Biden administration, which has proposed a $1.9 trillion coronavirus relief plan as well as additional infrastructure spending.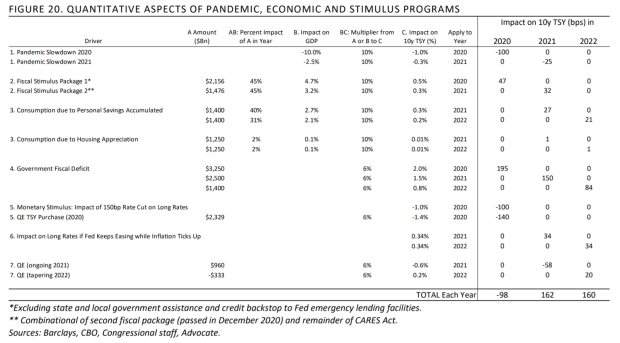 Central to his view of a surge in interest rates is the historical correlation between nominal gross domestic product growth with both short- and long-term interest rates in the U.S., U.K., Germany and Japan. Long-term regression reflects a 50% ratio between GDP growth and the Treasury yield since 1960, though more recent history suggests the ratio may have declined to 27%.
Even that lower level of correlation would suggest the vaccine rollout, pent-up spending power, surge in government debt, and monetary stimulus would send yields higher.
Wouldn't such a rise in rates raise alarm bells at the Federal Reserve? Peng calculates that the Fed would have to quadruple the size of its quantitative easing to offset the projected 2021 rise in rates. "A $300 billion per month QE pace would exceed the 2020 QE and is unlikely to be sustainable for any extended period, especially if the economy is recovering well," he says.
Peng didn't extend his analysis to…
Continue reading at MARKETWATCH.com