The S&P made yet another new high yesterday at 4,392.37.  Impressive bull rally, right? WRONG!
Investors are once again playing by the 2020 playbook of just buying FAANG stocks which dominate the S&P making it look like a rally is taking place. Yet if things are so glorious why was the Russell 2000 down -1.88% yesterday and down over -5% since the recent peak…
Let's focus on what is really taking place and how to navigate our way forward.
Market Commentary
Check out the 1 month stock market heat map from FinViz.com below.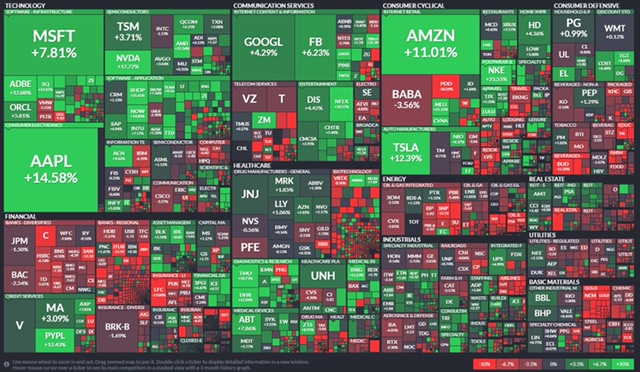 Notice the BIG blocks of green for the FAANG stocks and a few other well known large caps. Then look at how red dominates the rest of the page.
This means that we don't really have a healthy bull market at this time as the new record highs for the S&P would imply. What you have is investors a bit shaken by recent market volatility and just hitting the "easy button" with FAANG stocks and other name brand large cap choices.
And in many ways we have not had a healthy, broadly advancing stock market since April when we had one of the strongest earnings seasons in recent memory.
The key question is WHY is this happening?
Higher Volatility > Flight to Safety > Cling to FAANG & other Safe Large Cap Stocks
And why do we have higher volatility?
Because the stock market does not normally rise 100% in a year like it did from the bear market bottom in March 2020. So it means the easy money has been made and many stocks are getting a bit stretched on the valuation front.
This leads to rounds of profit taking on some of the highest profile stocks. The famed ARK Innovation ETF (ARKK) is a prime example. With large holdings in TSLA, ROKU, TDOC, ZM and the like, the fund was recently down 36% from the February peak.
OK…that is a picture of the current situation. What does it mean going forward?  
That is a somewhat unclear. What I will say with greater certainty is that we are still very much in a bull market. And likely that will last another 2-3 years. The reasons why were spelled out in last week's RTR Members Only Webinar.
The trickier question is in the short run whether we will continue to endure all this volatility…sector rotation…lack of market breadth. Or will we have a more traditional bull run where more stocks come along for the ride?
I don't pretend to have the answer. And anyone saying they know with great certainty has an elongating nose like Pinocchio 😉
In this type of scenario it is best to align yourself with the primary market trend. And that is to be long stocks as they will trek higher at some point for which you don't want to be left on the sidelines.
But because of the increased volatility and lack of clarity on the groups to pull ahead, then best to have a fairly diversified portfolio. This gives you improved odds of being in enough of the groups that lead the charge higher. And yes, I am confident our collection of 12 stocks and 2 ETFs is properly diversified in that way.
Now let's turn our attention to the slate of economic reports over the last couple weeks to appreciate how it continues to…
Continue reading at STOCKNEWS.com