The market has become increasingly rational as this 16-month bull market matures, and index-based upside potential dwindles every additional percentage they rally. This is a stock picker's market. Quality stocks in well-positioned sectors will have much higher upside potential than most index-tracking ETFs for the remainder of 2021…
The S&P 500 hasn't seen a pullback of more than 5% so far this year and hasn't seen an actual correction (a pullback of 10% or more) since last September, which was quickly bought back up once that down 10% mark was reached. Despite this blue-chip benchmark not exhibiting any material sell-off, over 90% of its 505 components have experienced a 10% or larger correction in 2021 thus far.
Rotations In & Out of Growth & Value
Investors have kept the stock market's bull drive alive by rotating in and out of growth and value sectors as portfolio's position for the reopening at the beginning of the year, then turned back to growth stocks when the yield surge began to fade mid-May. This performance deviation is clearly illustrated below with Vanguard's growth-oriented ETF VUG in the candlesticks and its value-focused ETF VTV represented by the orange line.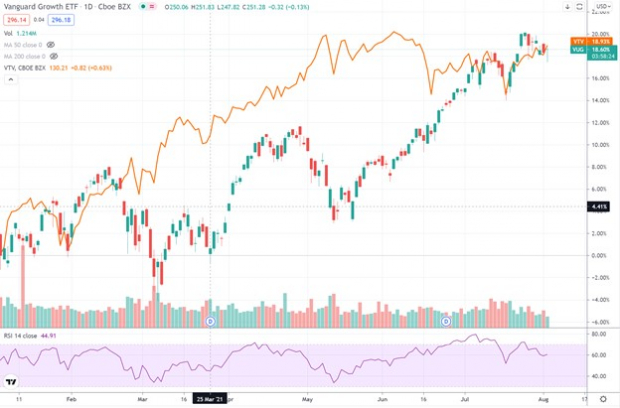 Image Source: TradingView
The year-to-date performance divergence between these two stock groupings illustrates that investors & traders are not buying indiscriminately. Meaning that judgment is going into every trade decision (aka stock picking), causing the market to deflate overstretched areas and reallocate into relatively cheaper spaces.
Accelerating Annualized Returns
The S&P 500 has remained above an extraordinary 75% annualized return trendline for over 16 months now. Unfortunately, this rate of return isn't even close to sustainable.
The S&P 500 has averaged 12% upside a year over the past 3 decades. However, the average annual growth rate has aged like fine wine. This blue-chip benchmark has demonstrated an average annualized return of nearly 15% over the past decade, and if narrowed down to just the last 5 years, those annual gains go up to over 16%.
The stock market is experiencing swelling average annual gains because of the rapid acceleration of technology that continuously accelerates companies' and our economy's growth outlook. I expect to see continued annualized return acceleration over the next decade as tech makes up a growing portion of the public equity market. Nevertheless, a rolling 75% annualized return out of the S&P 500 isn't viable.
There may be too much sideline capital (a record 5.5 trillion in money market funds, according to Goldman Sachs GS) for the market to entirely correct. Still, we are due for consolidation over the next few months, aka a rolling correction.
We are now entering a pivotal point in this maturing market cycle. Q2 earnings season has been tremendous thus far, with earnings soaring 105% on sales up over 22% from a year ago. 91% of the reported companies beating EPS estimates, and over 86% beat top-line projections. The richly valued tech sector has…
Continue reading at NASDAQ.com